Les limites du web collaboratif dans les stratégies de communication de la Fondation pour la Nature et pour l'Homme de Nicolas Hulot.
We dedicate ourselves here to the digital communications strategy of the Foundation for Man and Nature Nicolas Hulot (FNH), from 2009 till 2012, period in direct connection with the French presidential election. Indeed, the analysis of the digital presence of the FNH shows the place and the role of the Web2.0 tools in the implementation of Nicolas Hulot's candidacy, its adequacy to the ambitions of the leader, and reveals finally the positioning of this one via the FNH and its networks as a charismatic leader of an ecologist movement that is not positionned as a marginal political party, but as an important political actor carried by weighty media device. Throughout this analysis, two features will be advanced: in the first place the methods of utilization of the networks, forums and other participative and community forms with the purpose of broadcasts and informations further and parallel to the traditional media; and secondly the place and the role of the members and "eco-citizens" in the strategy of valuation of the leader's actions, that stand against the idealized image of an active and free Internet user carried by certain promoters of Web 2.0 [Ben09: 137-180]. This work leans on a semio-pragmatic analysis of the official platform, its blog, and sub-sites, partner sites, accounts in the social networks, conducted since June 13th, 2009, and on a strategic analysis of the organizational mechanisms of the commitments of each actor.
Nous nous consacrons ici aux stratégies de communication numérique de la Fondation pour l'Homme et la Nature de Nicolas Hulot (FNH), de 2009 à 2012, période en liaison directe avec l'élection présidentielle française. En effet, l'analyse de la présence numérique de la FNH dégage la place et le rôle des outils web 2.0 dans la mise en place de la candidature de Nicolas Hulot, montre son adéquation aux ambitions du leader, et révèle enfin le positionnement de celui-ci via la FNH et ses réseaux en tant que chef charismatique d'un mouvement écologiste qui ne se positionne pas comme un parti politique marginal, mais comme un acteur politique d'importance porté par un appareil médiatique de poids. Tout au long de cette analyse, deux traits seront mis en avant : premièrement les modalités d'instrumentalisation des réseaux, forums et autres formes participatives et communautaires à des fins de diffusion et d'information complémentaires et parallèles aux médias traditionnels ; et deuxièmement la place et le rôle des membres et éco-citoyens dans la stratégie de valorisation des actions du leader qui vont à l'encontre de l'image idéale d'un internaute actif et libre portée par certains promoteurs du web 2.0 [Ben09 : 137-180]. Ce travail s'appuie sur une analyse sémio-pragmatique de la plateforme officielle, de son blog, des sites compagnons et sous-sites, des sites partenaires, des comptes dans les réseaux sociaux, conduite depuis le 13 juin 2009, et sur une analyse stratégique des mécanismes organisationnels porteurs des engagements de chaque type d'acteurs.
Fichier principal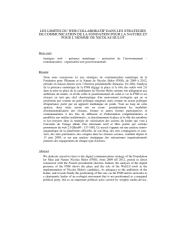 MTO_2012_texte_dA_posA_dans_Hal.pdf (300.5 Ko)
Télécharger le fichier
Origin : Files produced by the author(s)