Can Telemedicine be Effective in Responding to Local Health Needs? Lights and Shadows from the Picture of Piedmont
Telemedicine (TM) allows health professionals to evaluate, diagnose and treat patients in remote locations using Information and Communications Technology (ICT) thus enabling healthcare access and equity. However, the process of digitalisation strongly depends on local contexts. With the ultimate aim of planning an accre-ditation path for TM services, the Regional Health Direction of Piedmont conducted, in 2017, an investigation through a questionnaire to the local Health Units, which explored several domains as defined by the national guidelines. This survey returned a picture of the implementation status of TM services over the regional territories. The results show that a rich experience exists in Piedmont, however the maturity levels of the different services are wide-ranging, suggesting that central governance is needed to ensure a solid framework for appropriate and sustainable services and to make their integration feasible in the regional Health System.
La télémédecine (TM) permet aux professionnels de la santé d'évaluer, diagnostiquer et traiter des patients éloignés des services de santé. Toutefois, le processus de numérisation dépend fortement des contextes locaux. Dans le but de mettre en place la procédure pour accréditer les services de TM, la Direction régionale de la santé du Piémont a mené, en 2017, une enquête en soumettant un questionnaire aux agences locales de santé, qui a exploré plusieurs domaines de service comme définis par les directives nationales. Cette enquête a permis de dresser un tableau sur l'état de la mise en œuvre des services de TM sur le territoire régional. Les résultats montrent qu'il existe en Piémont une riche expérience, mais que le niveau de maturité des services est très différent. Ils suggèrent qu'une gouvernance est nécessaire pour assurer des services appropriés et durables, et rendre possible leur intégration dans le système de santé régional.
Fichier principal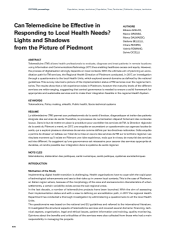 CIST2020_Session_K_scelfo_grosso_dalmasso_et_al.pdf (501.31 Ko)
Télécharger le fichier
Format : typeAnnex_abstract