Innovation et règles inefficaces : le cas des véhicules électriques
Abstract (En) Electric Vehicles (EVs) can be used as distributed storage units to provide Transmission System Operators (TSOs) with reserve power. This solution has been demonstrated as viable from an economic perspective. However, market design considerations are rarely taken into account in the studies dealing with this topic. We find that market rules can have a significant impact on the expected revenues of an EV fleet providing TSO reserve. In this paper, the authors are concerned with identifying the most important rules, and numbering their impacts on the possible revenues for an EV fleet.
Utiliser les Véhicules Électriques (VE) pour fournir de la réserve de puissance au Gestionnaire de réseau de Transport (GRT) a été démontré comme une solution économiquement viable dans nombre d'expériences internationales. Les VE étant des petites unités de stockage, ils aident le système à s'équilibrer en temps-réel. Cependant, les études menées sur ce sujet prennent rarement en compte les règles économiques mises en place pour organiser la participation des VE aux services système. Ce faisant, nous constatons que ces règles peuvent avoir un impact important sur les revenus escomptés. Ainsi, ce papier modélise l'impact de ces règles sur la capacité des VE à fournir de la réserve de puissance au GRT et estime leur rémunération-ou leur absence-si les règles inefficaces actuelles persistent.
Fichier principal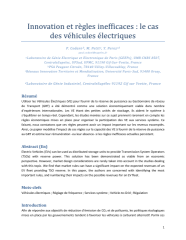 codani_missing_money_VF6.pdf (1.25 Mo)
Télécharger le fichier
Origin : Files produced by the author(s)