Les dynamiques plurielles d'innovation au sein des SCOP : les conditions d'un entrepreneuriat d'utilité sociale
This research paper is in the field of social and solidarity economy (SSE) and covers the analysis of the link between the SCOP governance and its ability to promote innovation in economic and social terms. The issue revolves around the following question: what legal principles and those of SCOP's governance are the central drivers of economic and social innovation? We propose to analyze this question in two parts. (i) The system of SCOP: a specific Corporate Governance. We develop the idea that the legal SCOP framework generates a powerful lever in order to innovate on both the social and economic level. (ii) We then develop an empirical analysis. These case studies are representative of the sectorial diversity and allow the understanding of innovative dimensions in SCOP. In conclusion, this research opens a new problematic: financial risk management in uncertain environments.
Ce papier de recherche s'inscrit dans le domaine de l'économie sociale et solidaire (ESS) et vise l'analyse du lien entre le régime SCOP et sa capacité à favoriser des innovations sur le plan économique et social. La problématique retenue est la suivante : en quoi les principes juridiques et de gouvernance propres aux SCOP représentent le levier central de l'innovation économique et sociale ? Après avoir montré que le régime des SCOP conditionne en profondeur le mode d'organisation interne de ces structures, une analyse empirique est conduite afin d'identifier les principaux leviers d'innovations économiques et sociales. Au final, ces expériences de terrain permettent d'ouvrir une interrogation sur une limite du modèle des SCOP : la prise de risque en situation d'innovation placées en environnement incertain.
Fichier principal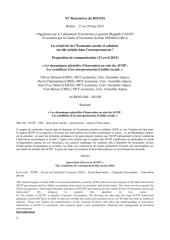 pub15043.pdf (204.56 Ko)
Télécharger le fichier
Origin : Files produced by the author(s)