El auto-sacrificio en Teotihuacan
L'autosacrifice à Teotihuacan
Auto-sacrifice at Teotihuacan
Bloodletting, together with a variable amount of pain, was probably common practice in most of Mesoamerica, well before the beginnings of Teotihuacan. A mural painting from Tlacuilapaxco shows priests presenting or offering maguey spines planted into a thick layer of vegetal material. The maguey spine is one of the recorded glyphs at La Ventilla. In the Portico 2 murals from Tepantitla, a recurrent motive is interpreted as a vessel containing plants used in self-sacrificial rituals. This hypothesis is confirmed at Atetelco where the motive is constantly associated with spiny plants used in penitential rites as well as with weapons such as knives and arrowheads. Together, they define an environment close to the huitztlampa of the Aztecs identified as the south direction at the time of the Conquest. The use of maguey spines in penitential rites was not only due to their technical properties as sacrificial instruments, it also made the penitents participate in a universe of war, sacrifice and death, foreshadowing future developments in Postclassic Central Mexico.
La sangría infligida a sí mismo con más o menos dolor era práctica corriente en la mayor parte de Mesoamérica, mucho antes de los principios de Teotihuacan. Un mural en Tlacuilapaxco enseña sacerdotes presentando u ofreciendo espinas de maguey clavadas en una espesa capa vegetal. La espina de maguey es uno de los glifos pintados sobre un piso de La Ventilla. En los murales del Pórtico 2 de Tepantitla, un motivo recurrente es interpretado como una vasija que contiene plantas asociadas al ritual de auto-sacrificio. Esta hipótesis se confirma en Atetelco donde el motivo se ve sistemáticamente asociado con plantas espinosas, cuchillos y puntas de flecha. Definen un contexto similar al huitzlampa de los aztecas, que en el tiempo de la Conquista se identificaba con el sur. El uso de espinas de maguey en ritos penitenciales no era debido solamente a la eficiencia de esos instrumentos de tortura; con ellos, los penitentes participaban en un universo de guerra, de sacrificio y de muerte, que anunciaba los desarrollos del Posclásico en el Centro de México.
Les saignées plus ou moins douloureuses que l'on s'infligeait à soi-même devaient être une pratique courante dans l'essentiel de la Mésoamérique bien avant les débuts de Teotihuacan. Une peinture murale de Tlacuilapaxco montre des prêtres exhibant ou offrant des épines d'agave fichées dans une épaisse couche de végétaux. L'épine d'agave est un des glyphes peints sur un sol à La Ventilla. Sur les peintures murales du Portique 2 de Tepantitla, on voit un motif répété qui est interprété comme un récipient contenant des plantes utilisées dans les rites d'autosacrifice. Cette hypothèse est confirmée à Atetelco où le motif est constamment associé à des plantes épineuses utilisées dans des rites pénitentiels ainsi qu'à des armes (couteaux et pointes de flèches). Ces divers éléments définissent un environnement proche du huitzlampa des Aztèques, que l'on identifie comme la région du sud au temps de la Conquête. L'utilisation des épines d'agave dans les rites de pénitence ne tenait pas seulement à leurs propriétés techniques comme instruments de sacrifice ; elles faisaient en réalité entrer les pénitents dans l'univers de la guerre, du sacrifice et de la mort, ce qui annonçait de futurs développements dans le Mexique central du Postclassique.
Fichier principal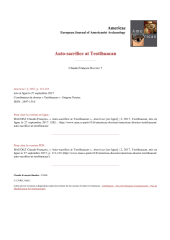 Baudez - Auto-sacrifice at Teotihuacan.pdf (1.04 Mo)
Télécharger le fichier
Origin : Publisher files allowed on an open archive