La normalisation internationale en audit, implications pour la politique qualité de l'audit des comptes publics
The financial audit of the governmental accounts is a new mission for the "Cour des comptes" which is in line with an international movement of reforms. This movement is characterized by an important convergence, the adoption of the International Standards on Auditing (ISAs). One of the first consequences of this adoption for the Cour des comptes is the necessity to implement a quality policy for the financial audit. Based on a case study, this research introduces the international context for the financial audit and more specifically for its quality policy settlement. The second part is devoted to the study of its development and to the international normalization impacts.
La certification des comptes de l'Etat est une nouvelle mission pour la Cour des comptes qui s'inscrit dans un mouvement international de réformes encadré par une convergence importante, l'adoption par les institutions supérieures de contrôle des normes internationales d'audit, les ISAs (International Standards on Auditing). L'une des principales conséquences de l'adoption des normes ISA par la Cour des comptes est la mise en place d'une politique qualité spécifique pour la mission de certification. Sur la base d'une étude de cas, cet article présente le contexte de la mise en place de la politique qualité pour l'audit financier réalisé par la Cour des comptes et étudie ensuite son développement et l'impact de la normalisation internationale selon une vision néoinstitutionnaliste.
Fichier principal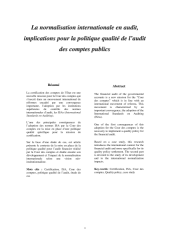 p140.pdf (852.08 Ko)
Télécharger le fichier
Origin : Files produced by the author(s)