La performance des cabinets d'audit légal : comparaison de points de vue
Researches on audit quality are generally on the auditor. Audit quality depends also on the organizational framework in which it is exercised. Furthermore, the concept of performance varies among users. Based on a research on the performance of audit firms perceived by French auditors, this study aims to extend it by learning the performance dimensions of audit firms retained by the finance directors and to compare their points of view. A survey nearby the finance directors allows us to obtain interesting information on the relationship between auditors and finance directors, on their degree of satisfaction as well as elements of audit firm's performance valued primarily by finance directors. If the audit firm size is important for both populations, their viewpoints are nuanced on other dimensions.
Les recherches sur la qualité de l'audit porte généralement sur l'auditeur. La qualité de l'audit dépend également du cadre organisationnel dans lequel il est exercé. Par ailleurs, le concept de performance varie selon les utilisateurs. Partant d'une recherche sur la performance des cabinets d'audit perçue par les auditeurs, la présente étude vise à la prolonger par la recherche des dimensions de la performance des cabinets d'audit selon les directeurs financiers (DCF) des entreprises et à comparer les points de vue. Une enquête auprès des DCF a permis de recueillir des informations intéressantes sur les relations entre les directeurs financiers et les CAC, leur degré de satisfaction ainsi que sur les éléments de la performance des cabinets d'audit appréciés prioritairement par les directeurs financiers. Si le critère taille est important pour les deux populations, leurs points de vue sont nuancés sur d'autres dimensions.
Fichier principal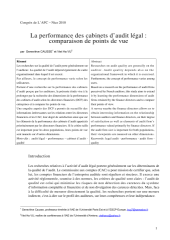 p68.pdf (335.13 Ko)
Télécharger le fichier
Origin : Files produced by the author(s)