Biological rhythms in the deep-sea hydrothermal mussel Bathymodiolus azoricus
Biological rhythms are a fundamental property of life. The deep ocean covers 66% of our planet surface and is one of the largest biomes. The deep sea has long been considered as an arrhythmic environment because sunlight is totally absent below 1,000 m depth. In the present study, we have sequenced the temporal transcriptomes of a deep-sea species, the ecosystem-structuring vent mussel Bathymodiolus azoricus. We reveal that tidal cycles predominate in the transcriptome and physiology of mussels fixed directly at hydrothermal vents at 1,688 m depth at the Mid-Atlantic Ridge, whereas daily cycles prevail in mussels sampled after laboratory acclimation. We identify B. azoricus canonical circadian clock genes, and show that oscillations observed in deep-sea mussels could be either a direct response to environmental stimulus, or be driven endogenously by one or more biological clocks. This work generates in situ insights into temporal organisation in a deep-sea organism.
Les rythmes biologiques sont une propriété fondamentale de la vie. L'océan profond couvre 66% de la surface de notre planète et constitue l'un des plus grands biomes. Les grands fonds marins ont longtemps été considérés comme un environnement arythmique car la lumière du soleil est totalement absente en dessous de 1 000 m de profondeur. Dans la présente étude, nous avons séquencé les transcriptomes temporels d'une espèce des grands fonds marins, la moule de l'évent Bathymodiolus azoricus, qui structure l'écosystème. Nous révélons que les cycles de marée prédominent dans le transcriptome et la physiologie des moules fixées directement aux évents hydrothermaux à 1 688 m de profondeur sur la dorsale médio-atlantique, alors que les cycles quotidiens prédominent chez les moules échantillonnées après acclimatation en laboratoire. Nous identifions les gènes de l'horloge canonique circadienne de B. azoricus, et nous montrons que les oscillations observées chez les moules des grands fonds marins pourraient être soit une réponse directe à un stimulus environnemental, soit être commandées de manière endogène par une ou plusieurs horloges biologiques. Ces travaux permettent de comprendre in situ l'organisation temporelle d'un organisme des grands fonds marins.
Fichier principal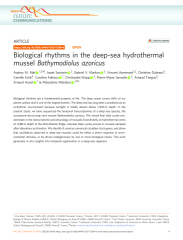 s41467-020-17284-4.pdf (4.62 Mo)
Télécharger le fichier
Origin : Publisher files allowed on an open archive